/
Schöne Frau mit ebensolcher Stimme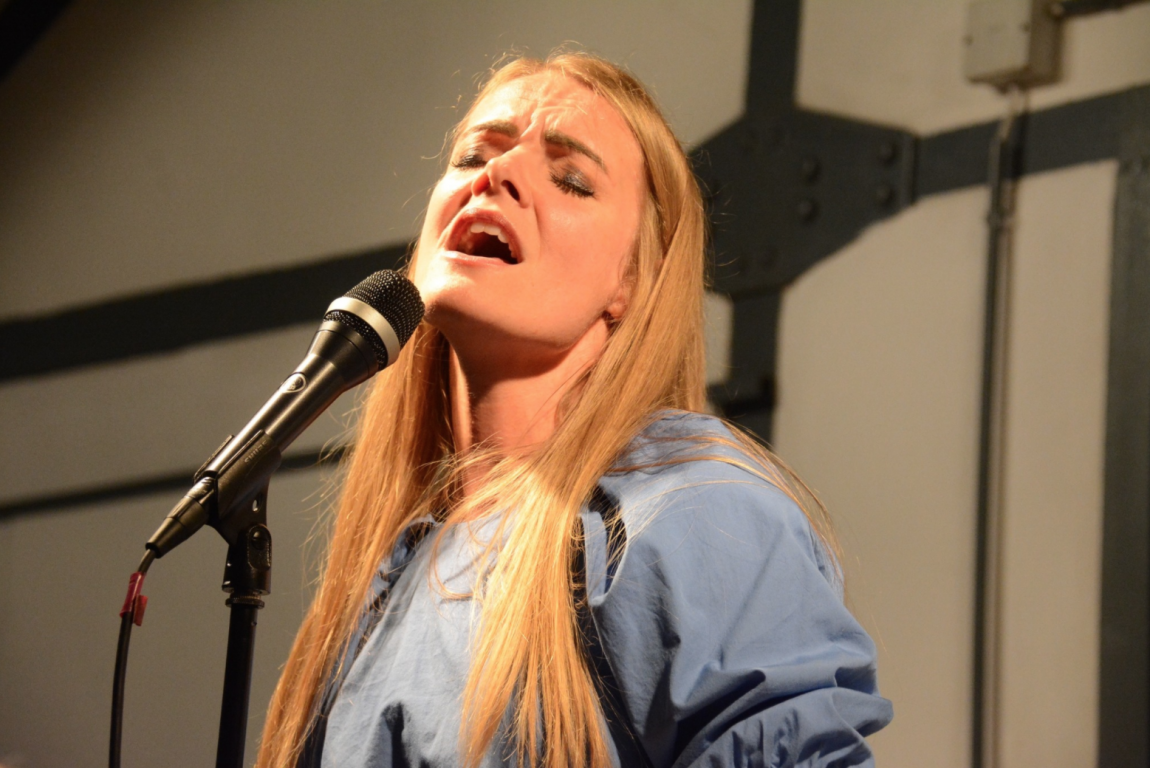 Mai 2018: Trofaiach, Museumsdepot
"Die ungarische Jazzsängerin Evelyn Berkecz war mit ihrem Quartett im Museumsdepot Trofaiach zu Gast.
TROFAIACH. Das Museumsdepot Trofaiach entwickelt sich zu einem atmosphärischen Zentrum für Kleinkunst. Wolfgang Slamnig, dem Kustos des Stadtmuseums, ist es mit Hilfe der Stadtgemeinde gelungen, ein ansprechenden Kulturprogramm zusammenzustellen. Erfreulich: Die Veranstaltungen ziehen Besucher weit über die Stadtgrenzen von Trofaiach hinaus an.
Ganz große Stimme
Wie vergangene Woche beim Konzert von Evelyn Berkecz und ihrem Quartett. Getragen von drei exzellenten Musikern – Burkhard Frauenlob (Keyboards), Josef Kapfenberger (Bass) und Bernhard Wimmer (Schlagzeug) zeigte die zierliche Jazzsängerin, dass die über eine ganz große Stimme verfügt. Die besonders bei funkigen Songs zur Geltung kommt, aber auch bei einfühlsamen Balladen. Wie in ihrer Eigenkomposition "Home Is Where Your Heart Is", in der sie ihre ungarische Heimat besingt.
Zwei junge Talente
Eine Talentprobe lieferten zwei Schülerinnen der Musikschule Trofaiach ab: Julia Schlager und Angela Schneeberger. Ihre Gesangslehrerin Evelyn Berkecz holte sie für einen Song auf die Bühne.
Fazit: Ein stimmiger Abend, der zeigte, dass das Gute oft so nahe liegt, in diesem Fall im Museumsdepot Trofaiach."
Zum Originalbeitrag: https://www.meinbezirk.at/leoben/c-leute/schoene-frau-mit-ebensolcher-stimme_a2635763
---
English Translation:
"The Hungarian jazz singer Evelyn Berkecz was a guest with her quartet in the Trofaiach Museum Depot.
TROFAIACH. The Trofaiach museum depot is developing into an atmospheric center for cabaret. Wolfgang Slamnig, the custodian of the city museum, has succeeded with the help of the municipality in putting together an appealing cultural program. Pleasing: The events attract visitors far beyond the city limits of Trofaiach.

A great voice
Like last week at the concert by Evelyn Berkecz and her quartet. Carried by three excellent musicians – Burkhard Frauenlob (keyboards), Josef Kapfenberger (bass) and Bernhard Wimmer (drums), the jazz singer showed that she has a really big voice. Which comes into its own with funky songs, but also with sensitive ballads. As in her own composition "Home Is Where Your Heart Is", in which she sings about her Hungarian homeland.
Two young talents
Two students from the Trofaiach music school delivered a talent test: Julia Schlager and Angela Schneeberger. Her vocal coach Evelyn Berkecz brought her on stage for a song.
Conclusion: A coherent evening that showed that the good is often so close, in this case in the Trofaiach museum depot."