/
Ein Konzert in Wohnzimmeratmosphäre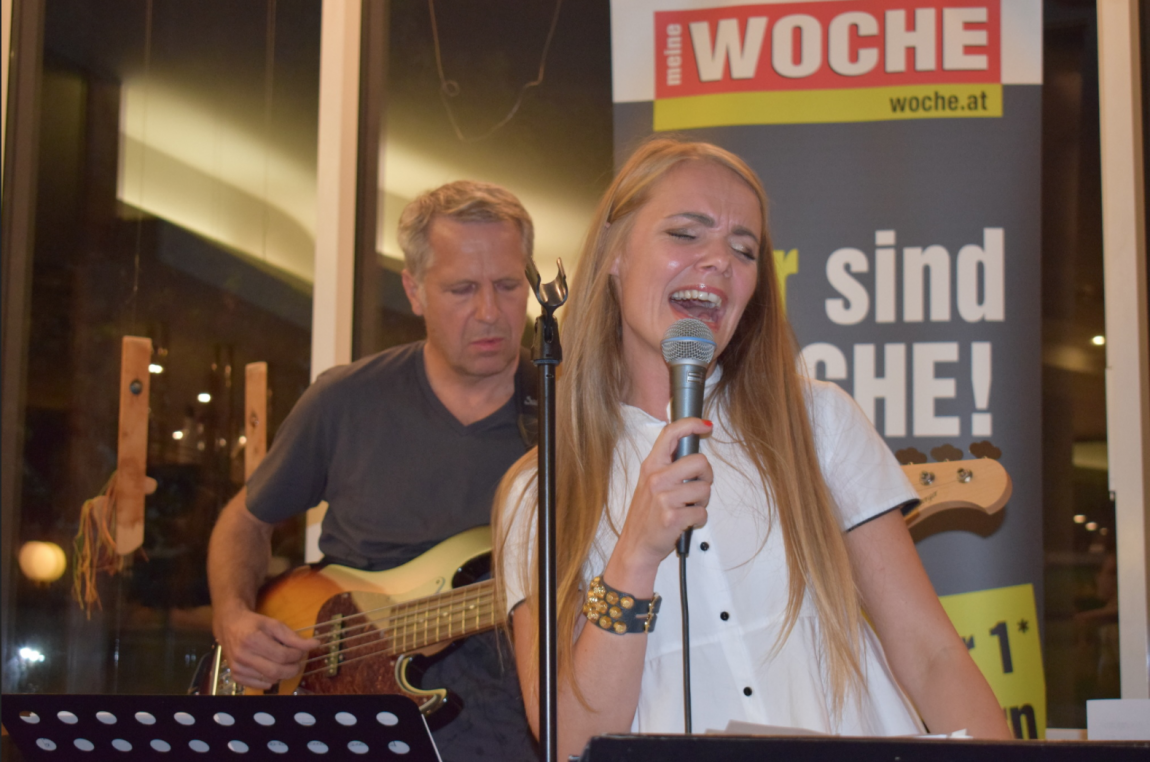 Oktober 2017: Leoben, Café Mitt'n drin
Das Evelyn Berkecz Quartett begeisterte beim Jazzkonzert im Café Mitt'n drin.
LEOBEN. Im Rahmen der von Jürgen Edlinger ins Leben gerufenen Konzertreihe "Cool Tour Jazz Nights" gastierte an diesem Wochenende die Jazz-Combo "Evelyn Berkecz Quartett" im Café Mitt'n drin. Anders als das Datum vermuten ließ – es war ein Freitag der 13. – war es für jeden Musikbegeisterten ein Glücksfall, wenn er Tickets dafür ergattern konnte, war das Konzert doch bis auf den letzten Platz ausverkauft.
Musikalische Vielfalt
Die ersten Töne zeigten auch schnell warum: Sängerin Evelyn Berkecz und 'ihre' Männer – Burkhard Frauenlob (Piano), Bernhard Wimmer (Schlagzeug) und Josef Kapfenberger (Bass) – sind allesamt Vollblutmusiker, die diese Liebe zur Musik auch ans Publikum vermitteln. Egal ob Eigenkompositionen wie "Your Love" und "Play me" oder Coversongs von Jazzlegende Herbie Hancock, die gebürtige Ungarin wusste mit ihrer beeindruckenden Stimme die Zuhörer zu begeistern, begleitet von den perfekt abgestimmten Arrangements ihrer Band. Ein großer musikalischer Höhepunkt: Eine Coverversion des berühmten Eagles-Songs "Hotel California", die das volle Haus zum mitgrooven brachte. Nicht weiter verwunderlich, dass das Publikum gleich mehrere Zugaben forderte.
Zum Originalbeitrag: https://www.meinbezirk.at/leoben/c-leute/ein-konzert-in-wohnzimmeratmosphaere_a2281312#gallery=null
---
English Translation:
"The Evelyn Berkecz Quartet thrilled at the jazz concert in Café Mitt'n drin.
LEOBEN. As part of the "Cool Tour Jazz Nights" concert series initiated by Jürgen Edlinger, the jazz combo "Evelyn Berkecz Quartet" made a guest appearance at Café Mitt'n drin this weekend. Contrary to what the date suggested – it was Friday the 13th – it was a stroke of luck for every music enthusiast to get tickets for the concert, as the concert was sold out to the last seat.
Musical diversity
The first notes quickly showed why: Singer Evelyn Berkecz and 'her' men – Burkhard Frauenlob (piano), Bernhard Wimmer (drums) and Josef Kapfenberger (bass) – are all thoroughbred musicians who convey this love for music to the audience. Whether original compositions such as "Your Love" and "Play me" or cover songs by jazz legend Herbie Hancock, the native Hungarian knew how to inspire the audience with her impressive voice, accompanied by the perfectly coordinated arrangements of her band. A great musical highlight: A cover version of the famous Eagles song "Hotel California", which got the full house to groove. Not surprising that the audience asked for several encores."