Nice to Meet You, I'm Evelyn Berkecz
Evelyn Berkecz is a Graz-based singer, songwriter and vocal coach with Hungarian roots. With her band she regularly captivates the audience at her unique gigs and enriches the atmosphere at various events.
Groovy & peppy, lively & smooth: what is hard to put into words is best experienced firsthand. Because what you can expect musically is a varied journey into the worlds of jazz, pop, soul, funk and R&B. Evelyn therefore embodies her very own style far from any genre specifications.
When she was little, Evelyn already knew for herself: "A zene az életem" – music is my life. She experienced the magic of the stage already in her early childhood and is fascinated by the feeling of performing ever since. To put it short: Evelyn is a musician through and through. You can feel her passion as soon as she enters the stage with her band and starts singing with all her heart and soul.
Starting with classical piano lessons from the age of 7, she continued her musical path at a music high school in Hungary. After graduating she later moved to Graz where she studied jazz at the University of Art.
After singing in various bands, she has been performing with her own band consisting of Burkhard Frauenlob (keys), Josef Kapfenberger (bass), Andreas Fürstner (guitar) and Bernhard Wimmer (drums) since 2013. Together they heat up the mood with groovy self-written songs in bars and jazz clubs, as well as classic cover hits at various events.
So the only thing left to say is: Keep it groovin 'all night long! 🙂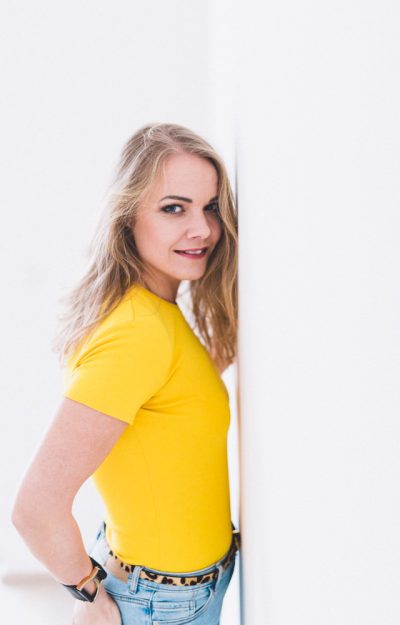 Grew up in:   Miskolc, Hungary
Based in:   Graz, Austria
Genres:  Jazz, Pop, Soul, Funk and R&B
Style:  Groovy & peppy, lively & smooth
Favourite song:   Lose yourself to dance – Daft Punk
Other Things I love:  Deep and fun conversations in good company, CrossFit, cooking for friends
A zene az életem
Music is my life
Whether as a solo-artist or together with my band I perform self-written songs as well as classic cover hits in bars, jazz
clubs and at various events.